About and Around Hannover
Is your family contemplating a relocation to Hannover or have you recently moved here? Hannover is an ideal city to live and work in, and ISHR is situated at the center of this vibrant mid-sized city, adjacent to Europe's largest urban forest (the Eilenriede) and at the top of the beautiful Maschsee lake where sailing, rowing and running occur just a stones throw away.
This university city is culturally rich with numerous museums, excellent shopping and is a hub for rail links to cities all over Europe with Berlin only an hour and fifteen minutes away. Hannover is the hidden jewel of Northern Europe with a leafy urban standard of living unparalleled in affordability and public transport access with nature all around. Although Germany is known for its high taxation and bureaucratic regulations, the quality of life here is superb. The health care system is excellent, it is very safe, care of the environment is taken seriously, and there are many different cultural offerings to suit every taste. With gorgeous outdoor spaces, world-renowned museums, abundant coffee and bar options, outdoor and indoor recreation (from open air swimming pools to the Opera) and numerous festivals, Hannover has something for everyone.
Things to do Inside the City
Hannover's got it all: an opera house, museums, a fabulous shopping district, a premier league football team, concert halls, a vibrant night life, more parkland than any other city in Germany, and more. Additionally, there are outdoor festivals throughout the year. Pro tip: museums are free of charge for everyone after 2:00 PM every Friday throughout Germany.
Here are just a few highlights of living in Hannover, a general overview of the city can be found on the official Hannover website. The travel blog Wandertooth has also great tips fo offer for exploring the city.
Parks – as Germany's greenest city, there seems to be a beautiful park around every corner. From the largest Baroque garden outside of Versailles the Herrenhäuser Gärten including the rebuilt Herrenhausen palace to the never-ending trails of the Eilenriede (twice as big as New York's Central Park!), Hannover is a perfect city to live in for people who love green space.
Maschsee – Located just around the corner from ISHR, one can bike, run, row, sail, swim, or enjoy a nice meal at the Maschsee.
Sprengel Museum – this is Hannover's modern art museum and a short walk from ISHR. The Sprengel Museum's permanent collection includes Picasso, Kandinsky, and Chagall.
Lower Saxony State Museum – Also a short walk from the school, this museum has it all: aquariums, dinosaurs, animals of Germany, in addition to Rembrants, Reubens, and a 200,000 year look at human history.
KUBUS Gallery – museum for contemporary art.
Museum of History – explore Hannover's 750 year history here.
Kindermuseum Zinnober – Hannover's children's museum.
Observatory – Observe the stars with high powered telescopes! Hannover has an observatory with many kid-friendly programs.
Opera House – From the opera to Hamlet and everything in between, this beautiful facility was built in the 1800's and restored after suffering damage during WWII.
Hannover 96 – Hannover's Bundesliga football team.
Die RECKEN – Germany's second most popular sport is handball, and Hannover's team is die RECKEN.
Music and Theatre events – check this link for upcoming events.
Hannover Zoo – considered one of the best zoo's in Europe, this is a must-see for families. Explore seven themed exhibits and a truly spectacular children's play area with a cafe and biergarten for the adults.
Hannover Philharmonic Orchestra – Offering excellent children's/youth programs in addition to concerts featuring world-renowned musicians, if you love music, this is a great place to explore.
Nightlife – With clubs, bars, a traditional German "Kneipenkultur" Hannover has something for everyone!
Things to do Outside the City
PHAENO Science Centre – just a 30 minute train or car ride from Hannover, this phenomenal interactive science experience is located in a building designed by world-renowned architect Zaha Hadid. Create tornadoes, play games with your brain waves, or discover how gravity works – PHAENO is for young and old.
Autostadt – with over 2 million visitors a year and just across the street from PHAENO, this is a great destination. Kids can test drive electric Beetles and adults can test drive other VW cars. There's a museum, factory tours, ice skating in the winter, a large cinema, and much more.
Marienburg Castle – just 20km south of Hannover, this castle was built by King George V for his wife, Mary.
Steinhuder Meer – featuring the largest lake in northwest Germany, this is just 30km from Hannover. Want to kite or wind surf, sail, row, swim, or simply walk along the waterfront enjoying ice cream, a coffee, or a beer? This is your place.
Klimahaus Bremerhaven – Experience the earth's climate zones close-up, traveling across five continents and nine locations, meeting people from all around the world along the way.
Bird Park – The Weltvogelpark Walsrode is the largest bird park in the world by species and by size. Don't miss the flight demonstrations and feeding stations! This is located 60 km from Hannover.
Heide Park – Large amusement park located in Soltau approximately 80 km north of Hannover in the beautiful Lüneburger Heide. With over 40 attractions for all ages everyone will find something to enjoy. Short trips and overnight stays are also possible at the Heide Park Resort right next to the park which offers a variety of cool themed rooms or at the Heide Park Camp with different housing options including wooden huts or sleeping in an original VW T5 van.
Universum Bremen– an interactive science museum devoted to technology, humans, and nature.
Golfing – there are many options for golf lovers near Hannover.
Wisentgehege Springe – Enjoy a walk through 90 hectares of beautiful parkland and see bison, wolves, bears, moose, birds of prey, and more. There are numerous playgrounds scattered throughout the park for children to play in.
Bückeburg Palace – if castles and palaces are what you're interested in, this 14th century palace is a fun place to explore. They also host many events throughout the year on the palace grounds.
Bergen-Belsen Memorial – located 50 km from Hannover, this memorial site and museum commemorates the over 70,000 people who died here between 1941 – 1945, including Anne Frank.
Ith Hills – castles, myth, hiking…this area has it all and is only a 40 minute drive from Hannover.
Deister – the Deister is a series of rolling hills 30 km from Hannover. Whether you come upon castle ruins, the Wasserräder (water wheels) or deer, the Deister is a hiker's paradise!
The Harz Mountains are rich in legend and fairy tales: this is where the Brothers Grimm collected their fairy tales of Cinderella, Hansel & Gretel, Snow White, and others; where unicorns once roamed (or still do, as some believe); where Goethe set his masterpiece, Faust, and where witches have met for hundreds of years on Walpurgis night.
It's also the highest mountain range in northern Germany offering gorgeous hikes with many family friendly activities like narrow gauge steam train rides, mountain biking, and winter sports. It's located just about 100 km from Hannover, making it an easy day trip from the city.
Here are just a few of the offerings of the beautiful Harz:
Overview of Harz National Park – this website provides a great overview of the different activities available in the Harz Mountains, the surrounding towns (many of them UNESCO World Heritage sites), and the history of the mountains. Another good overview of the Harz is provided here.
Harz Narrow Gauge Railway – experience over 140km of railway through the Harz Mountains! Take the steam train to the top of the Brocken, the highest mountain, and hike back down, or travel through the mountain range.
Unicorn Cave (Einhornhöhle) – The Harz Mountains has long been associated with unicorns, dating back to the times of Julius Caesar who is said to have seen one here.
Titan Bridge – Walk along one of the world's largest pedestrian suspension bridges.
Harz Mountains in Winter
Further Places to Visit in the Harz Mountains
Braunlage – is a great place to visit year-round with well-maintained skiing, biking, and hiking trails. There's even a 1,600 m toboggan run!
Wernigerode – is a beautiful medieval town and the starting place of the Brocken Steam Train. The Wernigerode Castle is also worth a visit!
Quedlinburg – A UNESCO World Heritage site, Quedlinburg offers a rich history dating back to the 9th century.
Hahnenklee – this is a fun day trip for the family that includes a 1250m alpine coaster and a downhill bike park.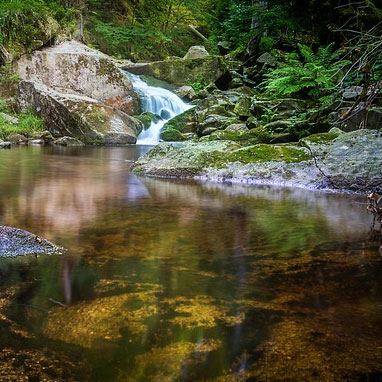 We have compiled a lot of useful information regarding life in Hannover and Germany in our brochure "New in Town". Please find the interactive PDF below. Alternatively you are welcome to download the print version.
Useful Links for Life in Hannover
You can find additional information about Germany and Hannover here: